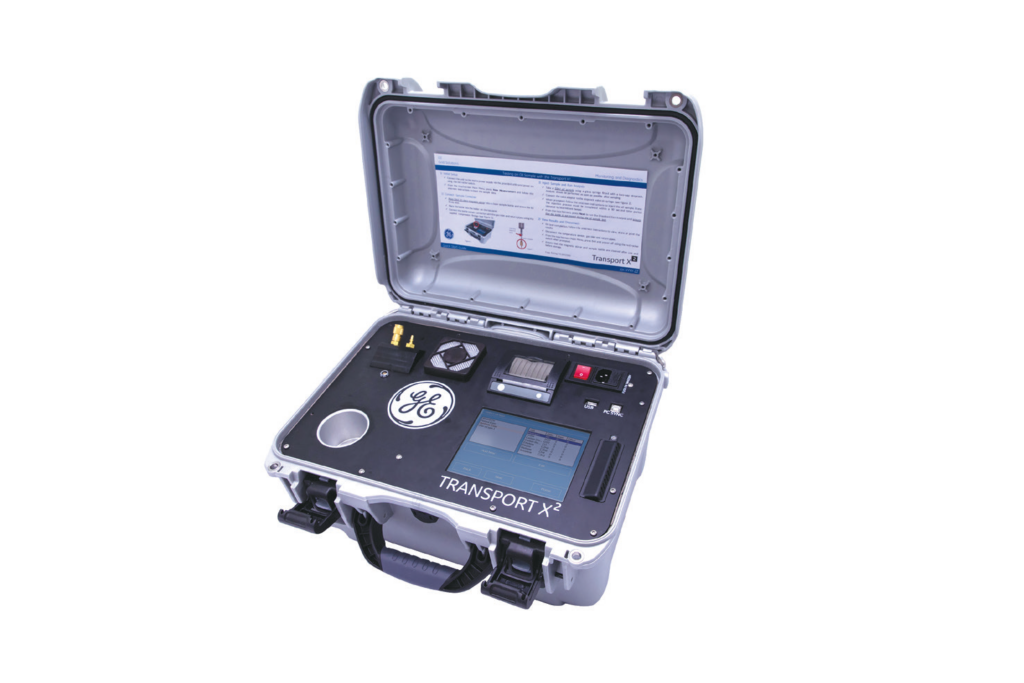 Dissolved Gas Analysis (DGA) and moisture measurement of insulating fluids are recognized as the most important tests for condition assessment of fluid-insulated transformers. Every year asset owners deploy field crews to take thousands of fluid samples from transformers as part of periodic health checks and for immediate operational decisions. These samples are sent to offsite laboratories for analysis. Transport X² is a portable 'lab in a box' delivering detailed analysis with dramatically reduced turnaround times. In critical situations, the ability to perform DGA in less than 30 minutes on the spot, empowers asset owners to determine a transformer's condition onsite and thereby allow operational decisions to be made at the earliest opportunity.
GE was the first to deliver consumable-free DGA products to the market and the Transport X² represents the next generation of its portable system. GE's class leading Photo-acoustic spectroscopy(PAS) gas measurement technology, now in its fourth generation, provides laboratory-challenging levels of precision in a calibration free, easy-to-use and hand-carriable product.Benefiting from over 40 years of global DGA experience, the Kelman™ Transport X² encapsulates intuitive advancements to bring improved performance, innovative new features, enhanced user experience and greater robustness.
• Measurement of seven diagnostic gases and moisture content in the oil.
• Fast diagnostics in less than 30 minutes.
• Intuitive touchscreen interface with step-by-step instructions and Plug and Play connectivity.
• Compatible with mineral insulating oils and newer ester-based fluids (natural and synthetic).
• Enables operators to effectively respond to alarms, trip events and supports on-site field decision
   making.
• Ideal companion to GE's range of single gas online DGA monitors for adding transformer diagnostics.
The Kelman Transport X² remains your ideal partner for use inconjunction with GE's range of single gas online DGA monitors. These units (such as Hydran™ 201Ti and Hydran M2-X) monitor the transformer and raise an alarm when an abnormal level of fault gas is reached or when the rate of change of this gas level increases rapidly so that you can take action and protect your transformer early in the process. Such events often require further investigation before a valid conclusion can be reached. Traditional methods require an oil sample to be sent to alaboratory for analysis. This can be a lengthy process before a diagnosis and related decision can be made. However, with the Transport X², the sample can be taken and analyzed onsite, giving comprehensive diagnostic information in less than 30 minutes. The Transport X² data can then be uploaded and visualized in GE's powerful Perception software alongside the readings from the online monitor.